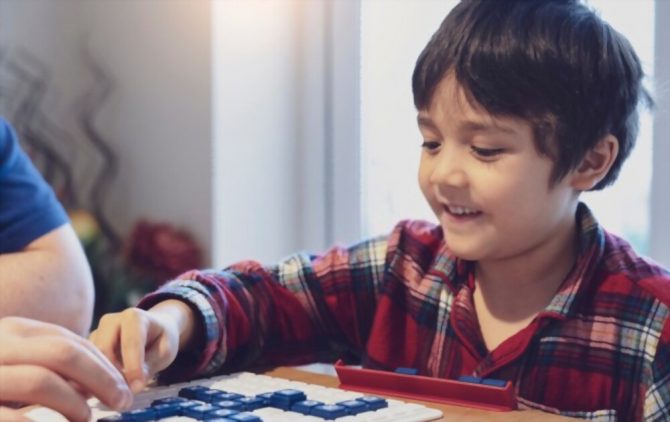 Importance of Word Games for Kids
Making learning fun becomes more of a priority as the 21st-century world bombards kids with screens and instant gratification.  Leveraging constant media exposure to your kids' educational benefit can be done easily with Turtle Diary.  Language development continues to be a top indicator of academic success, so using word games to reinforce these concepts both inside and outside of the classroom provides a win-win opportunity for everyone.  Kids will be begging to play quality word games, as they practice without even realizing they are learning and developing their language skills.
Why are word games important for kids?
Language Development
Learning the basics of language doesn't come naturally for everyone, so modeling becomes very important.  Hearing and seeing language used correctly can be a valuable tool for children as they develop their vocabulary and language development.  Word games allow kids to both see and hear words while enjoying their learning time. 
Perfect Practice Makes Perfect
One-on-one instruction is the best way for students to grasp concepts, but large classrooms impede these gains.  As a result, a child may incorrectly practice something, ingraining it into his memory only to later discover the mistake.  Online word games guide kids through a learning process meeting them where they are and then gradually moving up in difficulty.  Perfect practice demonstrates the right skills one step at a time so only the correct material gets programmed into their brain.
Stress-Free Learning
From grammar to punctuation, writing to speech, language dominates the world around us.  But when learning is stressful, with too many worksheets, too many drills, and too many quizzes and tests, kids equate learning with anxious situations, causing them to shut down and reject traditional learning.  Word games open this learning window wide by allowing kids to have fun practicing these skills while gaining self-esteem and accomplishment.  Even failures at online word games prod the child to try again because of the fun involved. 
Why are Turtle Diary Word Games the best?
Variety of Topics
Turtle Diary has a huge variety of topics within language development, so kids can practice many different skills in one setting.  From sight words to punctuation, spelling to grammar, everything you need for learning development is within the website.Games for Every Age
No one is too young for language learning at Turtle Diary!  Even pre-K students can play Are You a Wordsmith? and practice beginning reading skills with Sight Words.  As they build proficiency, they can move onto more complex practice, eventually using logic and vocabulary to unscramble words and practice spelling.  Who doesn't love Hangman or Word Scrabble?
Multiple Challenges
At Turtle Diary, it isn't just about the game.  We make word games multi-leveled by not only providing multiple games to practice the same skills, but also multiplayer challenges that allow students to play against each other.  The more they play, the more their language skills improve and the more confidence they gain.  
Why play on Turtle Diary?
Quality, educator-approved content may be appealing for parents, but for kids, they just want to have fun in as many ways as possible.  Turtle Diary has many games to choose from, so kids can practice their skills without even realizing they are learning or reinforcing skills.  And the convenience of having all of these amazing games on one website that can be accessed from anywhere offers convenience for both parents and kids.  With Turtle Diary, you don't have to review the content because you know your kids are playing excellent games guaranteed to support their learning.