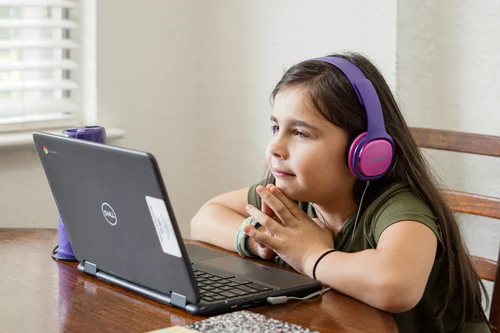 Why Are Online Games Important for Kindergarten Kids?
In the 21st-century world, even the smallest children are able to intuitively navigate smartphones and computers.  Their observant nature and ability to accept new information without bias makes them prime for learning and intellectual growth.  Online games can help kids both gain technological literacy and establish a firm foundation for their educational future.  Kindergarten games in particular are designed to help younger students to develop confidence and enjoy the learning process.
Why are Online Kindergarten games important for kids?
Learning = Fun!
One of the most important messages for younger kids to learn is that education is fun.  Kids need to find ways to enjoy learning and online games invite them right in.  While in the classroom, there may be anxiety and stress as they are in a new environment and surrounded by other children they've never met.  Online games can be played anywhere in a stress-free way, keeping them learning while escaping from the pressures of formal education.  And having so much fun!
Building a Foundation
If kids don't learn basic skills in kindergarten, the rest of their education will be a struggle.  Learning the basics at the right age will enable kids to succeed in their future learning.  Basic shapes and colors and numbers all have a place in the strong foundation for young learners.  Kindergarten is where they learn the value of practice and begin to see why practice gives them an edge and helps them to understand more in the classroom and with new challenges.  Online games introduce basic skills and give them a fun way to reinforce these skills.
Computer Literacy
Even though it may not be obvious, kindergarteners may not have lots of experience on computers or tablets.  Online games give them a chance to navigate a platform and learn how websites are structured.  As they move through the Turtle Diary site, they can begin to learn how to search, find, and identify the games that are appropriate for them.  This technological literacy serves as another foundation for their future.
How can Turtle Diary's online games support learning in Kindergarten?
Curated Skills
Turtle Diary's award-winning content brings solid educational skills to the youngest learners.  Every game, from the most basic to more advanced skills, is specially designed for kids.  They are interactive and have scaffolded skills that build from one to the next.  You can start with "Play with Shapes" to gain the basics and then move into "3D Shape" and eventually try their hand at "Tangrams."  From math to science, words to grammar, Turtle Diary has a variety of games to reinforce necessary skills.
Building Confidence
The wide variety of games that Turtle Diary offers allows kids to practice the same skills again and again, but in a different format.  There are multiple games that focus on colors, beginning with the basic "Color by Number" and moving into more complex skills like "Color by Addition" and "Color Subtraction"  This not only prevents boredom, but also gives kids the power of choice.  They become confident in choosing games for themselves and trying new things.  
Springboard for School
The more practice kids get outside of the classroom, the stronger their foundation will be.  Turtle Diary sets them up with multiple levels of skills that will springboard them forward into the classroom.  They can start with letter recognition in "Falling Letters Multiplayer" where they compete against others, and eventually get to letter formation in "Write Uppercase Letters."  Before you know it, they are playing "Word Ladder" and "Rhyme Time," skills that take most kindergarteners all year to master.
Playing games online can not only develop technological literacy, but it can also give kindergarteners a leg up to their educational future.  From providing foundational skills to building confidence, Turtle Diary's online games offer kindergarteners the opportunity to embrace the fun of learning and excel in formal school settings.