AREA OF RECTANGLES BY TILING
Area of Rectangles by Tiling
A unit square is a square having each side of length 1 unit. The area of a unit square is 1 square unit.
For example, consider the following rectangle made of unit squares.
Let's find the area of this rectangle.
To find out the area, we need to count the total number of unit squares.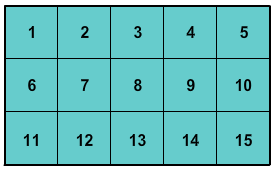 There are 15 unit squares inside the rectangle.

So, the area of the given rectangle is 15 square units.
A B C D E F G H I J K L M N O P Q R S T U V W X Y Z
Help
The correct answer is
Remember :
The smallest number is the one that comes first while counting.
Solution :
To arrange the given numbers in order from smallest to greatest, find the smallest number among all the given numbers.
21,27,23
21 is the smallest number.